WOODBRIDGE FURNACE REPAIR
When you need a furnace repair, don't be left in the cold with a broken heating system. Get one step ahead of those chilly nights with our 2 year guarantee on all furnace repair services in Woodbridge, VA and surrounding areas. The best time to get your furnace repaired is before the cold front rolls in. The problem is it usually likes to break down while there is snow and ice outside. At Walker Heating and Air Conditioning, we can help get your furnace up and running quickly and efficiently so you're comfortable all winter long.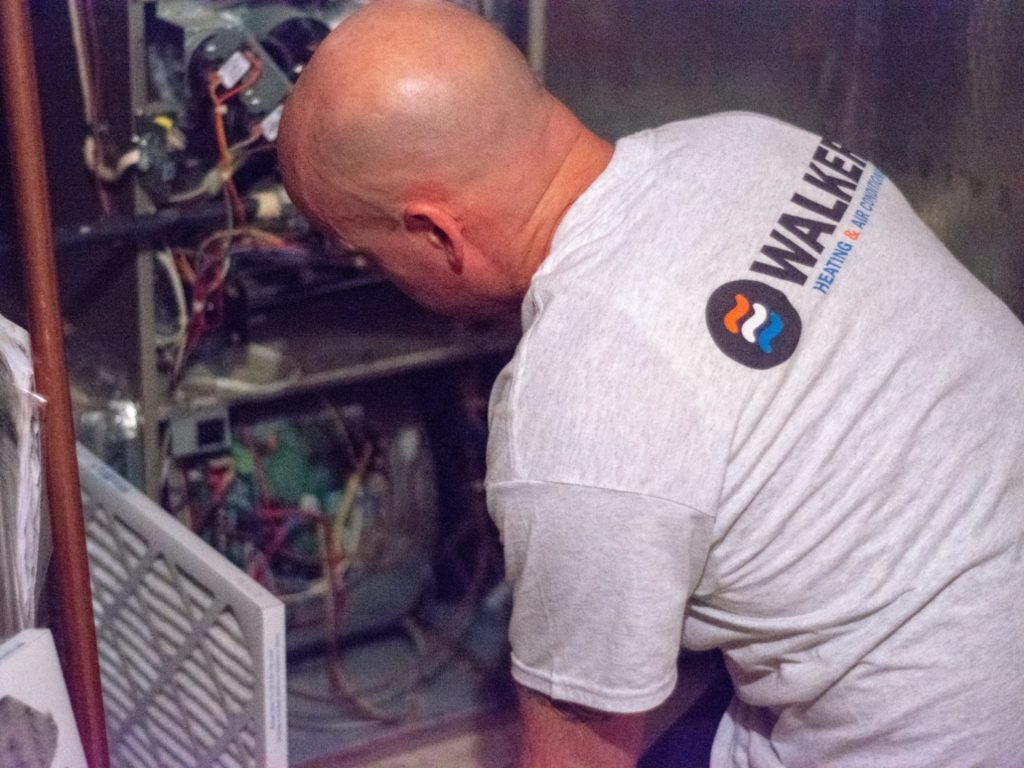 24/7 EMERGENCY FURNACE REPAIR SERVICE
When your furnace fails on a cold night, Walker Heating and Air Conditioning can help. A cold house is more than just uncomfortable; it can be problematic and worrisome, especially if you have small children or elderly parents living with you. We offer straight forward pricing, trustworthy technicians and emergency repair services to meet all your heating needs ASAP.
Do you need an emergency furnace repair? We've got you covered. No matter what time of year it is, we understand that sometimes our HVAC systems can break down at the worst of times, we have you covered with real live people always answering our phones 24 hours a day, 7 days a week. For weekends and after hour furnace repair emergencies, no need to worry, we offer 24/7 emergency services 365 days a year. No matter what furnace issues you're facing, our knowledgeable HVAC technicians will diagnose and fix your furnace as soon as possible.
REPAIR VS REPLACING THE FURNACE
Heating technology has come a long way. Most systems are backed by excellent manufacturer's warranties and run well for 15 to 20 years. But even the newest and best systems run into problems. That's where we come in. As experts in the field, we've been diagnosing and fixing furnaces for years and know exactly where to look and what to do.
Don't push repairs off until it's too late. Even small issues can turn into larger, more expensive problems if left to sit. Unusual smells, sounds, higher than usual heating costs, frequent breakdowns and repairs, and insufficient heating are some signs your furnace needs to be repaired or replaced. Don't ignore warning signs.
Call us at 703-483-2400 for speedy, professional furnace repairs in Woodbridge, Manassas and beyond.
HEATING SERVICE, MAINTENANCE, & REPAIR
We offer comprehensive heating service, so your HVAC system works properly all year long. Don't wait until an icy winter night to discover your furnace is no longer functional. Our Walker Family Plan, an HVAC maintenance service agreement, is the best way to save money throughout the year while maintaining your system's ability to perform. Maximum heating efficiency is only possible with regular care, cleaning, inspection, and minor repairs, as needed. Walker Heating & Air Conditioning offers our regular HVAC maintenance services to Woodbridge, Fairfax County, Prince William County, and surrounding areas.