Heat Pump Service Company
Heat pumps are known for keeping homes at a comfortable temperature all year long here in Woodbridge, VA. Whether you are interested in learning about heat pumps, want to install a new heat pump in your home, or require repair or replacement services for your current system, our licensed technicians are ready to help. With our 100% satisfaction guarantee, you can be confident that the job will be done right the first time.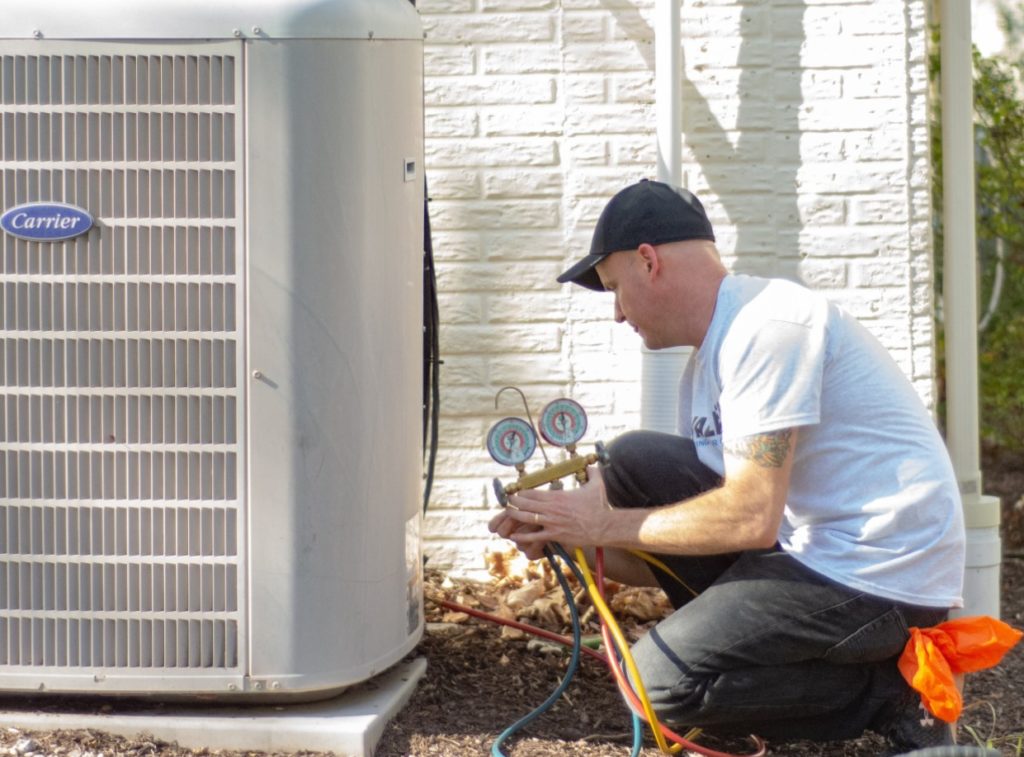 Heat Pump Replacement & Installation
Heat Pump Repair
Heat Pump System Maintenance
Mini Split Heat Pump Systems – Ductless Heat Pumps
Thru-the-Wall Heat Pumps
Package Heat Pump Systems – Rooftop Heat Pumps
Are Heat Pumps Efficient?
A common complaint we hear from customers with older heat pumps is that they do not push enough warm air from the vents like a gas furnace does. They also will cut the emergency heat on frequently, causing higher electric bills. Newer heat pumps are actually great for your energy bills, and do not have these same issues. Updated heat pump systems are capable of pushing out up to 120F warm air from your vents without using emergency heat. This is the reason why most homeowners are looking for high efficiency heat pumps over geothermal systems for a greener home.
A heat pump is an efficient source of both heating and cooling. During the hot summer months, the system works to push hot air outside, while in the cold winter months, it transfers warm air into a home from the outdoors. Moving heat from one location to the other only requires a small amount of energy, making this system more efficient than other heating and cooling systems. In addition, since a heat pump provides both heated and cooled air, it is only necessary to install one hvac system, instead of two.
Although heat pumps are reliable systems and need minimal maintenance, at times they do require repair. If you are experiencing a problem with your heat pump system, get your issue resolved immediately by calling Walker Heating & Air Conditioning. We are available 24 hours a day, 7 days a week to take your call. If you require emergency assistance, we will dispatch a technician right away to diagnose and fix your problem as soon as possible.
We have extensive experience repairing all types of heat pump issues, including:
Failure to turn on
No cold air
Insufficient heating
Strange smells
Odd noises
Faulty thermostats
Restricted airflow
If you are in need of a new heat pump, contact the team at Walker Heating & Air Conditioning to help you select and install the right system for your needs and budget. We offer a 10-year parts and 5-year/10-year labor warranty for your total peace of mind. You can also benefit from our affordable rates and 0% financing on your heat pump installation.