AIR CONDITIONING INSTALLATION
With decades of AC installation experience, Walker Heating & Air Conditioning is your most trusted HVAC contractor in Woodbridge, VA. As a Rheem Pro Partner we back our work up with an industry-leading guarantee on every air conditioner installation and replacement: 10-year parts and 10-year labor. There's just one small catch: You have to get it serviced at least once per year by a licensed HVAC contractor. Manufacturer warranties require professional installation and maintenance to be valid.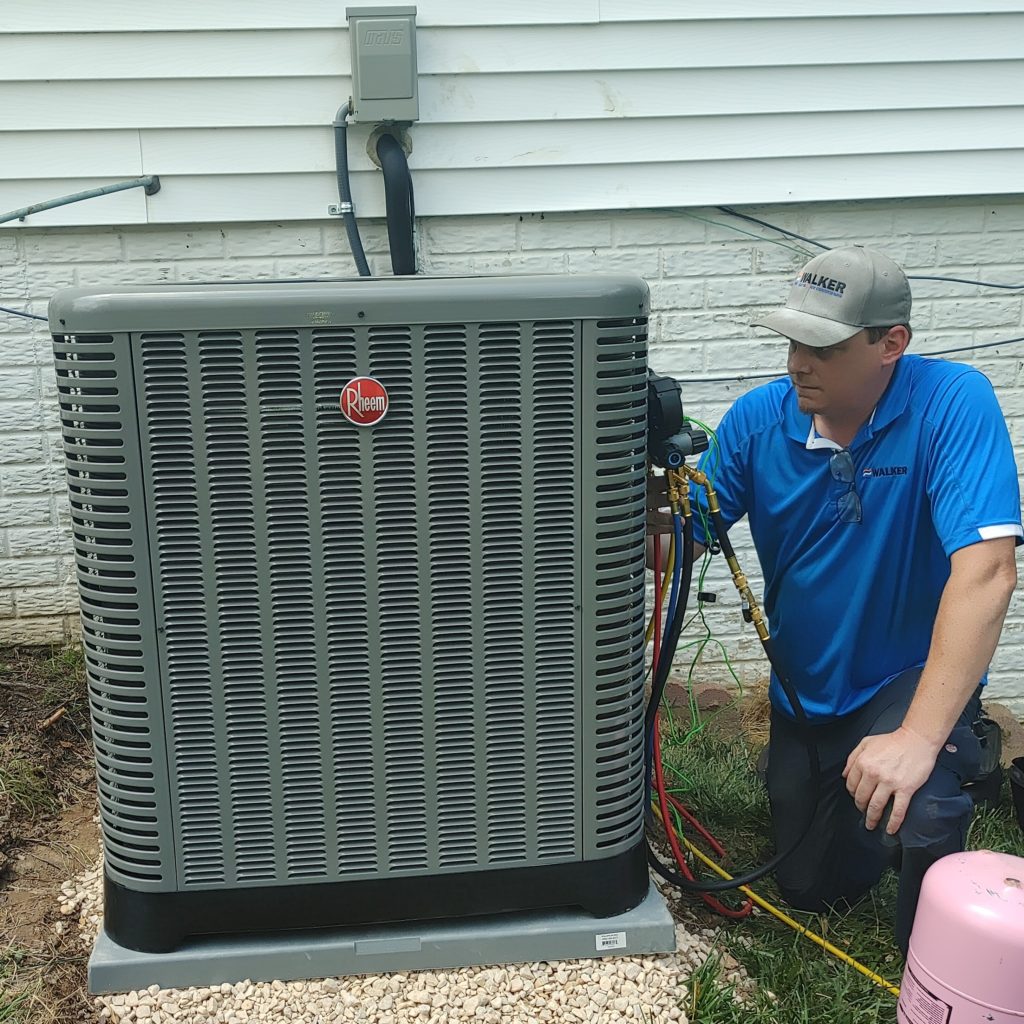 PROPERLY SIZED AIR CONDITIONER REPLACEMENT
Our Master HVAC Technicians will help assess your home's unique needs and determine what unit will work best to keep you comfortable throughout the year. Fitting your home with the right system is the key to efficiently cooling your home. An improperly sized unit can lead to a shortened unit lifespan, comfort issues, and high electric bills. Our licensed technicians are experts at determining the perfect fit for the Air Conditioner in your home.
Picking the right AC unit for your home depends on a variety of factors. We take the guesswork out of the selection process by providing the necessary information to the homeowner so that they can make an informed decision. With honest and hassle-free pricing, we take the stress out of the process so you can kick back and cool off.
AC REPLACEMENT FOR IMPROVED ENERGY EFFECIENCY
Tired of paying for repairs? Your old AC unit may cost you in the long run. It may surprise you how much more comfortable you can be with a new air conditioning installation that is cost and energy-efficient. Operating an inefficient system can create further problems and expenses in the long run. Improved energy savings, better comfort, and fewer repairs are some benefits you may enjoy by replacing your outdated or broken air conditioning.
Air conditioning installation and replacement can be an investment. What if you could pay your new air conditioner off while saving money on your utility cost? You'll be glad to know that there is a good chance that no matter which system you choose, it will most likely be more efficient than your old one. This means that your utility cost will go down. The higher your SEER (seasonal energy efficiency ratio) rating, the lower your electric cost. We offer fast and flexible financing through Synchrony. With our superior AC service, you'll enjoy peace of mind knowing your investment is being protected.
WHEN SHOULD I REPLACE MY EXISTING AIR CONDITIONER IN MY HOME?
With proper maintenance, air conditioners typically last 15 years here in Woodbridge, VA. The age of the existing ac unit, repair cost, and efficiency are the top 3 reasons that your unit may need to be upgraded. Some common signs that your AC is on its last legs and needs a replacement include:
Your unit is no longer under the manufacturer's warranty
The cost of repairs is 25% or more of the cost of a new unit
Frequent repairs and repeated breakdowns
Your AC cannot sufficiently keep your whole home cool anymore
Your AC is giving off an odor in the home or from the vents while running
FINDING THE BEST AIR CONDITIONING INSTALLATION COMPANY
With the amount of air conditioning contractors in the Woodbridge, VA area, it can be tough to find the best AC installation company. When searching for the best local air conditioning company in the area, it's important to make sure that they are the right contractor for you. Here is a list of the top 5 things to keep in mind.
Top 5 Questions for Your AC Installation Company
Are they licensed & insured contractors? Virginia requires any HVAC company working on your home to be licensed and insured. The type of license a company holds should be on the front page of its website, usually at the very top or the very bottom. You can look the license up here.
Are they charging a fair price? Sure, some companies do more than others, and some also charge more than others. Make sure that you trust the contractor that is working for you and that they're not cutting any corners.
 Did the company quoting My AC installation send a salesman to my house? Yes, this is a common occurrence in the Northern Virginia area. Make sure the contractor that estimates your HVAC system is experienced and preferably an installation technician/mechanic. They should be gathering necessary measurements and performing a load calculation to make sure your air conditioner is sized properly for your home.
Is my contractor a 5-star HVAC company? Make sure to check ratings and reviews on the Top 3 most popular sites that matter most for contractors and homeowners, Google, Facebook, and Yelp.
What type of full coverage warranty am I getting on my AC unit? The quality of an AC installation can sometimes be told by how long the company is willing to back up its work. In this area, anywhere from 1 to 10 years, make sure you're not forking over big bucks just to be right back in the same spot again 2 years after the brand new AC installation.
At Walker Heating & Air Conditioning, we offer 10-year parts & 5-year labor warranty on all new HVAC installations. This is automatic and is not an additional charge, however, if you decide to service your new system at least once per year, we warranty the labor for a full 10 years, at no additional cost. Get in touch with us today! (703) 483-2400.